Your Used Toyota Car Dealer in Columbus, NE
Our team at Ernst Toyota is ready to help you purchase a used Toyota vehicle or a used car, truck, SUV, or minivan! If you're looking for a used car dealer near Columbus, NE come by and see us! We have a large inventory of pre-owned cars, trucks, SUVs, and minivans at great prices!
You'll find popular Toyota models like the 4runner, Avalon, C-HR, Camry, Corolla, Highlander, Prius, RAV4, Sequoia, Sienna, Tacoma, Tundra, and Yaris in our used car inventory. Let us know how we can help you find a specific vehicle by sending us some information about what you're looking for. Contact us if you want to dicuss options on leasing and vehicle financing, and our financing department will work with you to get you into a new car.
Make sure to view our used vehicle specials to see selected pre-owned cars, trucks, SUVs, and minivans!
Visit Our Toyota Dealership in Columbus, NE
We look forward to welcoming you at our Columbus used car dealership. Our Toyota dealership is conviently located near Norfolk, Albion, David City, Central City, and Schuyler. Feel free to contact us by calling (402) 564-2736, or contact us online. We look forward to seeing you soon!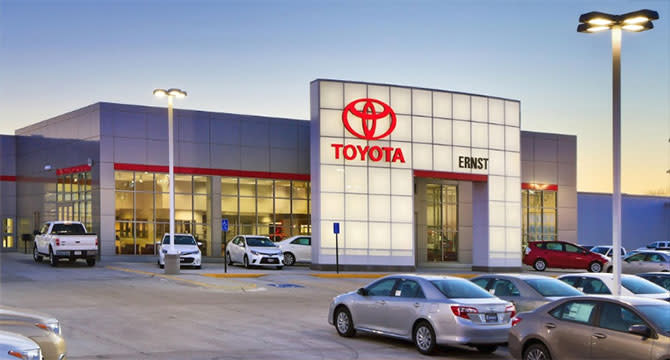 Testimonials
GOOGLE
9-15-2019
CARGURUS
8-27-2019
CARGURUS
8-23-2019
GOOGLE
8-21-2019
GOOGLE
8-13-2019
CARGURUS
8-2-2019
CARGURUS
7-15-2019
GOOGLE
6-8-2019
GOOGLE
5-30-2019
GOOGLE
5-28-2019
GOOGLE
5-21-2019
CARGURUS
5-17-2019
GOOGLE
5-10-2019
CARGURUS
4-11-2019
GOOGLE
4-2-2019
GOOGLE
3-27-2019
GOOGLE
3-17-2019
CARGURUS
3-13-2019
GOOGLE
3-7-2019
GOOGLE
3-1-2019
GOOGLE
3-1-2019
CARGURUS
3-1-2019
GOOGLE
2-16-2019
GOOGLE
2-16-2019
GOOGLE
2-6-2019
GOOGLE
1-27-2019
CARGURUS
1-24-2019
CARGURUS
1-12-2019
GOOGLE
1-8-2019
GOOGLE
12-31-2018
GOOGLE
12-28-2018
GOOGLE
12-23-2018
GOOGLE
12-18-2018
CARGURUS
12-9-2018
CARGURUS
11-27-2018
CARGURUS
11-26-2018
CARGURUS
11-21-2018
CARGURUS
11-15-2018
CARGURUS
11-11-2018
GOOGLE
11-2-2018
GOOGLE
9-29-2018
GOOGLE
9-20-2018
Read More